Meet Kayelyn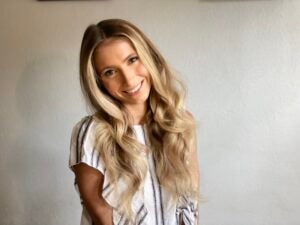 My love for working with children and adolescents began at the age of 14. As a gymnastics instructor, I enjoyed helping children facilitate both their physical and psychological growth.My passion for mental health developed not long after, during a time that I experienced my own mental health issues and did not have someone I thought I could disclose my struggles to.I graduated from the University of North Texas with my B.A. in Psychology. I pursued my Master's in Professional Counseling at Sam Houston State University, focusing on Play Therapy.I am an LPC-Associate # 86380 in the state of Texas. I am supervised by Mariah J. Tailleur, LPC-Supervisor #66631.I work with children, adolescents, and adults experiencing various struggles ranging from trauma, grief, depression, anxiety, behavioral issues, and social skills.
I also work with and advocate for families experiencing domestic abuse, adolescents in the foster system, children diagnosed with autism, and families experiencing relationship issues. I am versed in Play Therapy, expressive arts, Behavioral Therapy, and Cognitive-Behavioral Therapy. I use these modalities to encourage creative and interactional processing of thoughts and emotions of my clients to improve trust and relationships.I believe that everything is interconnected and that awareness of such connections helps build a stronger foundation for personal growth. It is my goal to meet my clients where they are in their lives, joining them on their therapeutic journey of personal growth while providing the needed support. Whatever that might look like for them!
I live with my husband and our three puppers that mean the world to us. As much as I love my career, I also love the outdoors and our perfectly imperfect world. When I am not in session, I am taking the opportunity to be outside. Whether or not it involves traveling or gardening in my backyard! And if that does not happen, I am usually spending time with my family and loved ones.I hope to meet you and your family soon. I look forward to supporting you all as a whole, where you all are in life, and where you would all like to go next!
What Makes Us Different?
Grounded and honest therapy
Find your inner peace
Express yourself in a safe environment
Thrive in a collaborative environment