Meet Grace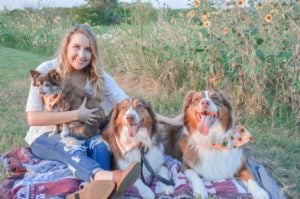 Hi, my name is Grace and I went to Texas A&M University (whoop!) for my undergraduate degree where I majored in psychology. I loved being a part of such a large and diverse community during my time at College Station. I decided to pursue my Masters in Counseling at the University of North Texas and during my time there, I focused on Play Therapy. After graduating UNT I took my State Exam with the Texas Professional State Board Examiners and passed my first try! Now I am a Licensed Professional Counselor.
I work with children, adolescents, parents, adults, and families. The counseling relationship is about providing a safe space in order to express self. It is important to me that the relationship I develop in the therapy room becomes the foundation for clients to lead a well adjusted and happy life.
In my experience children/adolescents can often feel misunderstood because developmentally they are still working on interpersonal self and communication. My education and experiences have taught me that children communicate through play and adolescents communicate through games & talking. As you're therapist I will focus on emotional development, self-confidence and self-regulation.
I have experience working with children and adolescents that have experienced trauma, domestic violence, separation from family members, adoption, anxiety, and depression. I feel honored to be a part of their journey towards healing because it takes so much courage to begin the counseling process.
I live in Fort Worth with my husband and our three dogs, Bella, Brooke, and Mabel! Those pups keep us on our toes and we love spending time with them. Our favorite things to do are taking walks with them and teaching them new tricks! You will often see me with a cup of coffee in hand! I can't wait to meet you and begin our counseling journey together!
What Makes Us Different?
Grounded and honest therapy
Find your inner peace
Express yourself in a safe environment
Thrive in a collaborative environment