Meet Claire
A bit about me!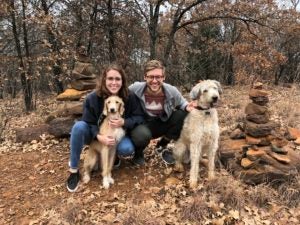 Hi, my name is Claire and I received my Master's in Counseling from The University of specializing in Play Therapy. While at UNT, I worked with children struggling with attachment concerns, aggression, anxiety, and behavioral concerns. Additionally, I have experience working with people across the lifespan struggling with depression, anxiety, and addiction. I also have training in Child-Parent Relationship Therapy (CPRT); I work to incorporate applicable skills and lessons during parent consults to help strengthen parents' understanding and connection with their children. I am a LPC Associate  #83181 from the State of Texas completing my hours at Keller Child and Family Therapy and am supervised by Mariah J. Tailleur, LPC-Supervisor.
When I am not working with clients, I enjoy spending time with my husband and our two dogs Leia and Dany. They are poodle mixes that look more like mythological creatures than dogs. I enjoy traveling and experiencing new cultures, foods, and views! I also love to garden and collect house plants. Getting my hands dirty and watching things grow
What Makes Us Different?
Grounded and honest therapy
Find your inner peace
Express yourself in a safe environment
Thrive in a collaborative environment