Meet Allie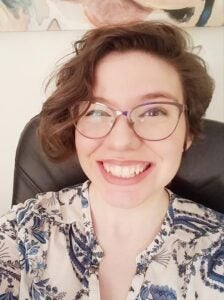 Hello! My name is Allie and I am a Licensed Professional Counselor Associate supervised by Mariah J. Tailleur, LPC-S. I earned my master's degree in counseling from Texas Woman's University. My experience has focused on working with children and teens that have struggled with anxiety, self-esteem, trauma, eating disorders, grief, and gender or sexual identity. I also have experience working with adults struggling with depression, divorce, and trauma.
I have an eclectic and collaborative approach to therapy. I am flexible and meet clients where they are by listening to their feedback and customizing treatment and using counseling techniques that are comfortable with the client. My goal is to make my clients feel safe and accepted for who they are and help explore with them what is blocking the path to their healing. I like to incorporate skills from various counseling approaches like CBT (cognitive behavioral therapy, DBT (dialectical behavior therapy), sand tray, and expressive arts depending on what best matches my clients' needs.
When I'm not helping people, I enjoy spending time with my husband being creative and nerdy together by playing video games and tabletop games. I also love to bake and watch arguably too many documentaries and TV shows on Netflix.
I look forward to meeting you!
What Makes Us Different?
Grounded and honest therapy
Find your inner peace
Express yourself in a safe environment
Thrive in a collaborative environment